Shizuoka's special recipe
Squid wild spray vinegar misogake
Squid wild spray vinegar misogake
Recipe provider:Fuji no Kuni Food City Creation Worker
Main ingredients used:JA Izu Taiyo Nobuki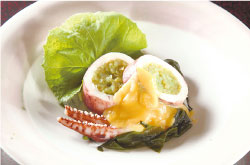 Material
For 4 people
| | |
| --- | --- |
| One cup of true squid (Japanese flying squid) | |
| JA Izu Taiyo Nobuki | 400g |
| Salt | 45g |
Vinegar miso
| | |
| --- | --- |
| Miso | 150g |
| 1 egg yolk | |
| Sugar | 50g |
| Sake | 30cc |
| Mirin | 30cc |
| Vinegar | 50cc |
How to make
For vinegar miso, mix ingredients other than vinegar well with a whisk, transfer to a pan, pour on medium heat, and knead with a wooden spatula for about 5 minutes. Add vinegar, knead, transfer to a bowl and cool.
Sprinkle 20g of salt on the field and sprinkle it on a plate.
Put 20g of salt in boiling water and boil ❷ for about 1 minute. Expose it to running water for about 20 minutes, peel it, raise it in a colander and drain it.
For true squid, remove the cartilage and internal organs from the torso and wash with water. Lightly sprinkle salt to drain.
❹ Bundle the butterbur to the size of the inner diameter of the squid and put it in the body of the squid at once (shooting).
Put it in a boiling steamer, steam it on medium heat for about 8 minutes, cut the squid into 1 cm wide pieces, and sprinkle with vinegar miso.
・ The surplus vinegar miso will last for several weeks if stored in the refrigerator.
・ Be careful not to overboil or steam the field so that you can enjoy the texture and aroma.
Recipe using
"JA Izu Taiyo Nobuki"
0品