Shizuoka's special recipe
Orido eggplant two-color miso Dengaku
Orido eggplant two-color miso Dengaku
Recipe provider:Fuji no Kuni Food City Creation Worker
Main ingredients used:Orido eggplant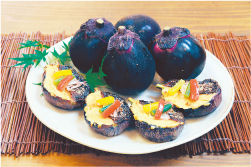 Material
For 4 people
| | |
| --- | --- |
| Orido eggplant | 2 pieces |
| Japanese ginger, green beans, paprika (red / yellow), appropriate amount | |
| Salad oil (for deep-fried food) Appropriate amount | |
Miso Dengaku (same amount for each of red and white)
| | |
| --- | --- |
| Miso | 200g |
| Sake | less than 5 tablespoons |
| Mirin | 2 and 1/2 tablespoons |
| Sugar | 100g |
| 1 egg yolk | |
How to make
Heat red miso, sake, mirin, and sugar in a pan over low heat and simmer until thickened.
Add egg yolk, turn off the heat when it is completely mixed, and Miso Dengaku is ready.
Make white miso in the same way.
Put the knives in a grid pattern on the cross section of the eggplant cut in half.
Put ❹ in salad oil at 170-180 degrees with the cross section facing down and fry. Fry for about 2 minutes, turn over when the cross section turns golden brown, and fry for another 1 minute.
Drain the oil well and apply a thick layer of white Miso Dengaku on half of the cross section and red Miso Dengaku on the other half.
Bake in the oven until the surface of the miso is lightly browned (about 3 minutes).
Decorate with small pieces of Japanese ginger, fried paprika, and boiled green beans.
Recipe using
"Orido eggplant"
3品