Shizuoka's special recipe
Takikomi gohan for early autumn
Takikomi gohan for early autumn
Recipe provider:Fuji no Kuni Food City Creation Worker
Main ingredients used:Hohohotake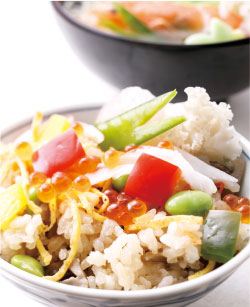 Material
5 servings
 A
| | |
| --- | --- |
| Hohohotake | 160g |
| Shiitake mushroom | 80g |
| Shimeji mushroom | 80g |
| Maitake | 80g |
 B
| | |
| --- | --- |
| Katsuobushi | 360cc |
| White soup | 50cc |
| Mirin | 50cc |
| Cooking sake | 30cc |
| 1 tablespoon sugar | |
 C
| | |
| --- | --- |
| Katsuobushi | 540cc |
| White soup | 60cc |
| Thin soy sauce | 30cc |
| Mirin | 90cc |
| Cooking sake | 60cc |
| 2 tablespoons of sugar | |
| 1/2 teaspoon salt | |
| | |
| --- | --- |
| Carrot | 60g |
| Lotus root | 60g |
| Burdock | 60g |
| Deep-fried tofu (without oil) | 60g |
| Boiled pillars (thaw frozen) | 50g |
| Rice (washed) | 3 go |
How to make
Of the A, cut off the ones with stones and loosen them into bite-sized pieces (cut the shiitake mushrooms).
Cut carrots and lotus roots into thin ginkgo, burdock roots, and soak the lotus roots and burdock roots in water for about 10 minutes. Cut the fried tofu into strips
Put B, ❶, ❷ and small pillars in a pan and heat. When it boils, turn off the heat and let it cool.
Put ❸ in a colander, cut the broth lightly, and add it to the rice cooker containing rice and C in advance and cook.
After cooking, mix the ingredients and rice and serve in a bowl, and if you like, sprinkle with seafood, vegetables, broth egg, etc. and it's done!
Point of ❹
Even if the broth is reused for bowls and simmered dishes ◎
How to make video
* The recipe is the information published in the August 3rd issue of Reiwa Newsletter.
Recipe using
"Hohohotake"
0品