Shizuoka's special recipe
Extreme Gatsuo's Yamakake Marbled Tataki
Extreme Gatsuo's Yamakake Marbled Tataki
Recipe provider:Fuji no Kuni Food City Creation Worker
Main ingredients used:Skipjack pole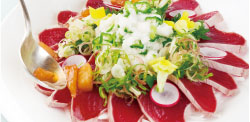 Material
For 4 people
| | |
| --- | --- |
| Katsuo no Kiwami | 200g |
| Nagaimo | 100g |
| 3 okra | |
| New onion | 100g |
| One scallion | |
| Japanese ginger (small) | 2 pieces |
| 1 grapefruit (ruby) | |
| 1 radish | |
| 3 perilla leaves | |
| Edible flower, appropriate amount | |
Tataki sauce
| | |
| --- | --- |
| Noguchi soy sauce | 3 tbsp |
| 2 tablespoons of vinegar | |
| Mirin and sesame oil 1 teaspoon each | |
How to make
Cut the new onion into julienne, cut the scallions, Japanese ginger, and radishes into round slices, put each in a bowl of ice water, lightly rub it, soak it, and then drain it well.
Soak the peeled dioscorea opposita in vinegar water, cut it into large pieces, wrap it in gauze, and crush it with a pestle. Salt the okra, boil it, and mix it with the dioscorea opposita.
Add the cut grapefruit pulp to the tataki sauce.
Pass the thawed bonito in boiling water until the surface turns white, cool it with cold water, and cut it into thin pieces of about 5 mm.
Spread the new onion on a plate, serve ❹ on it, put the perilla and ❷ in order, and finally put the scallions, Japanese ginger, radishes, and edible flowers on it.
・ To thaw frozen bonito, wash the surface with hot water of 50 to 60 degrees Celsius once, leave it in the refrigerator for about 30 minutes, pass it through boiling water, and marbling it will make the color of the body stand out.
・ You can enjoy the texture by using grapefruit as it is.
Recipe using
"Skipjack pole"
1品