Shizuoka's special recipe
Wonton wrapping of Toda's shrimp, made with soy milk
Wonton wrapping of Toda's shrimp, made with soy milk
Recipe provider:Fuji no Kuni Food City Creation Worker
Main ingredients used:Toda's book shrimp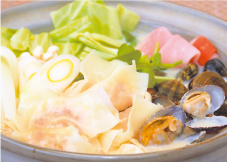 Material
For 3-4 people
Wonton
| | |
| --- | --- |
| Toda's book shrimp | 25 to 30 tails |
| 1/2 egg white | |
| 1/2 onion | |
| Appropriate amount of salt | |
| Wonton wrapper | about 20 sheets |
Hot pot
| | |
| --- | --- |
| Water | about 700cc |
| Soy milk | 360cc |
| Mirin | 2 tbsp |
| 2 tablespoons of thin soy sauce | |
| Saikyo miso (or white miso) | 4 tablespoons |
| 1 teaspoon of salt | |
| Cabbage, green onions, auctions, new bamboo shoots, enoki mushrooms, lajonkairia lajon, etc. as appropriate | |
How to make
Take the head of this shrimp. Peel the shell, remove the back cotton, and cut it roughly with a kitchen knife (keep the head and shell).
Put ❶ in a bowl, add egg whites, chopped onions and salt, and mix well until sticky.
Wrap an appropriate amount of ❷ seeds on the Wonton wrapper and boil it in boiling water for 1-2 minutes.
Put the head and shell of the ❶ shrimp in about 700cc of water, heat the pot, and remove the dashi stock.
❹ Add soy milk, mirin, light soy sauce, Saikyo miso, and salt to 540cc of soup stock to make a hot pot soup stock.
Put an appropriate amount of ❺ in a clay pot, heat wonton, vegetables, etc., and boil it to finish.
Recipe using
"Toda's book shrimp"
0品