Shizuoka's special recipe
Kyomaruhime Mitsuba with white sauce
Kyomaruhime Mitsuba with white sauce
Recipe provider:Fuji no Kuni Food City Creation Worker
Main ingredients used:Kyomaruhime Mitsuba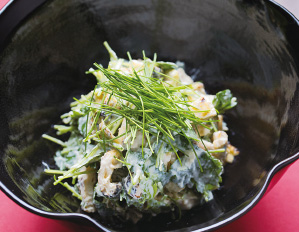 Material
4 servings
| | |
| --- | --- |
| Kyomaruhime Mitsuba | 2 packs |
| Silken tofu | 80g |
| Sour cream | 40g |
| Fried aburaage | 1 piece |
| Princess green onion (green onion is also acceptable) Appropriate amount | |
| Sesame paste | 5g |
| A little soy sauce | |
How to make
Cut Kyomaruhime Mitsuba into a size that is easy to eat.
Place the net on the gas stove and bake the fried tofu over an open flame (you can also bake it in a frying pan).
❷ If both sides are lightly browned, cut into bite-sized pieces and mix with a small amount of soy sauce.
Cut the princess green onions into pieces that are easy to eat
Put tofu, sour cream, sesame paste and soy sauce in a bowl and mix with a rubber spatula.
Mix ❶ and ❸ with ❺

Put ❻ in a bowl and treat ❹ and it's done!
Point of ❺
Tofu is OK without pretreatment such as draining

❻ points
Mix as much as possible just before eating
In addition to mitsuba, you can also add seasonal vegetables.
How to make video
* The recipe is the information published in the September 2018 issue of the prefectural newsletter.
Recipe using
"Kyomaruhime Mitsuba"
0品