Shizuoka's special recipe
Boiled chicken
Recipe provider:Fuji no Kuni Food City Creation Worker
Main ingredients used:Konta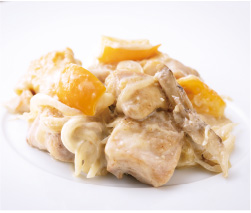 Material
2 servings
| | |
| --- | --- |
| Konta | 2 pieces |
| Chicken thigh (cut into bite-sized pieces) | 250g |
| Chicken thigh (cut into bite-sized pieces) | |
| Maitake mushroom | 35g |
| 1 piece of grated garlic | |
| A little salt and pepper | |
| A little flour | |
| 2 tablespoons of olive oil | |
| White wine (dry) | 30cc |
| Water | 50cc |
| Fresh cream | 60cc |
How to make
Cut off the calyx of the calyx, cut it into combs (1/4) and remove the seeds.
After salting and peppering both sides of the chicken, sprinkle the whole with flour.
Add 1 tablespoon of olive oil to a frying pan and bake ❷ over medium heat. Soak excess oil in kitchen paper. Remove when both sides are browned
Wash the frying pan once, add 1 tablespoon of olive oil, add salt and pepper to the onions, maitake mushrooms, and garlic and fry over low heat.
When the onions become translucent, return ❸ to the frying pan, add ❶, add white wine and simmer. When the white wine is boiled, add water and boil it further.
Turn off the heat, add the cream and mix. Finally, add salt and pepper to taste and it's done!
Point of ❸
Even if the chicken is ❺, it will be cooked, so if the flour on the surface is browned, you can take it out.
❺ points
Please note that if you do not boil down well, it will separate when you combine the cream.
How to make video
* The recipe is the information published in the March 3rd issue of Reiwa Newsletter.