Shizuoka's special recipe
Hana Kokochi and spring vegetable ankake rice
Hana Kokochi and spring vegetable ankake rice
Recipe provider:Fuji no Kuni Food City Creation Worker
Main ingredients used:Flowers here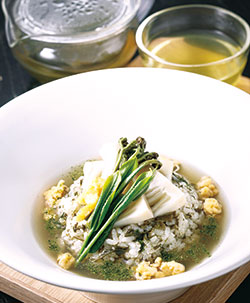 Material
4 servings
| | |
| --- | --- |
| Hanakochi (tea leaves) | 8g |
| Hot water | 800cc |
| Boiled bamboo shoots (cut into bite-sized pieces) | 200g |
| Bracken (boiled and lye-free) | 20g |
| White rice | 600g |
| Potato starch (dissolved in water) | 15g |
| 2 eggs (leave them as roasted eggs) | |
 A
| | |
| --- | --- |
| Soy sauce | 1.5 tsp |
| Salt | 0.5 teaspoon |
| Mirin | 8 tbsp |
 B
| | |
| --- | --- |
| Water | 100cc |
| Soy sauce | 1.5 tsp |
| Mirin | 1.5 tsp |
| 1.5 teaspoons of sugar | |
| 1 teaspoon of sake | |
How to make
"Hana Kokochi" is brewed in boiling water at 90 ℃.
Put A in ❶ and let it boil.
❷ Boil bamboo shoots in 300cc. After boiling for about 5 minutes, cool the whole pot with ice water and add bracken when it has cooled to human skin. After soaking in the flavor for about an hour, take out the ingredients.
Put B and ❶ tea leaves in a pan and simmer until the water is gone.
Lightly mix ❹ with white rice
Heat the remaining ❷ and thicken it with water-soluble potato starch.
Put ❺ in a bowl, put bamboo shoots and bracken on it, sprinkle ❻ bean paste, and sprinkle roasted eggs. Even if you add raw tea leaves or powdered tea to the color ◎
Point of ❸
It's okay to soak in the taste overnight.
How to make video
* The recipe is the information published in the May 3rd issue of Reiwa Newsletter.
Recipe using
"Flowers here"
0品