Shizuoka's special recipe
Nishina's true squid egg
Recipe provider:Fuji no Kuni Food City Creation Worker
Main ingredients used:Nishina's true squid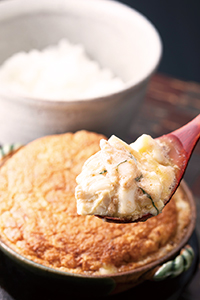 Material
2 servings
| | |
| --- | --- |
| Nishina's true squid (cut into torso [peeled], liver, and geso) | 1 cup |
| Raw yuba | 60g |
A (match)
| | |
| --- | --- |
| Bonito stock | 120cc |
| Mirin | 60cc |
| Dark soy sauce | 30cc |
| | |
| --- | --- |
| Mirin | 25cc |
| 5 eggs (5 yolks, 2 egg whites) | |
| Salad oil | 25cc |
| A pinch of salt | |
| Perilla (chopped) | 4 sheets |
How to make
Finely chop the raw yuba, put it in a pan, and put 40cc of A in it. Heat on medium heat and turn off the heat just before boiling
In another pan, boil the squid torso cut into 1 cm squares and the remaining A over medium heat, and cool to room temperature.
Finely chop the geso and mix with liver, mirin and 3 egg yolks. When it becomes smooth, add the vegetable oil in 3 to 4 portions and mix further. Finally a pinch of salt
Whisk egg whites (2 eggs) until horns stand to make meringue
Lightly mix the perilla leaves with ❸ and ❹ (so that ❸ is 2 and ❹ is 1).
Put ❶ (lightly cut the soup), ❷ (lightly cut the soup), and egg yolk (one by one) in each of the two heat-resistant containers, and then put ❺ on top (like a lid).
Bake ❻ in an oven heated to 145 ° C for 10 minutes and you're done!
Point of ❸
You can make it delicious even if you don't have a liver
❼ Point
If you eat it with rice ◎
How to make video
* The recipe is the information published in the September issue of Reiwa, a newsletter from the citizens of the prefecture.
Recipe using
"Nishina's true squid"
0品