Shizuoka's special recipe
Shinto Flounder Poire Summer vegetables baked in Provence style
Shinto Flounder Poire Summer vegetables baked in Provence style
Recipe provider:Fuji no Kuni Food City Creation Worker
Main ingredients used:Shinto flatfish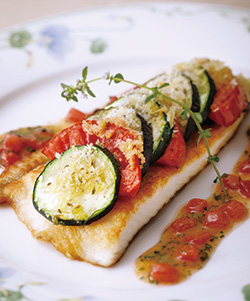 Material
1 serving
| | |
| --- | --- |
| Shinto flatfish (fillet) | 1 piece |
| Zucchini (sliced) | 25g |
| Eggplant (sliced) | 25g |
| Tomato (small) (of which 2/3 is sliced ​​and 1/3 is diced) | 1/2 |
| A little salt | |
| Herb mix (Herbes de Provence) | a little |
| Bread crumbs | 3g |
| 1 tablespoon of olive oil | |
| A little flour | |
| 1 tablespoon of salad oil | |
| French dressing (commercially available) | 20g |
| Parsley (chopped) | a little |
How to make
Place zucchini, eggplant, and tomatoes (sliced ​​in slices) alternately on a bakeware, sprinkle with a pinch of salt and herb mix, sprinkle with bread crumbs and olive oil, and bake in an oven at 160 ° C for 10 minutes.
Sprinkle a little salt on both sides of the Shinto flounder, sprinkle with flour, add salad oil to a hot frying pan and bake on medium heat. Return it when it is browned and take it out to a plate when the back side is cooked.
Put French dressing, tomatoes (diced), parsley and a pinch of salt in a pan and heat lightly over low heat.
Put ❶ on ❷ and add ❸ and it's done!
Point of ❶
You can use your favorite herbs such as basil.
❸ points
Don't overcook the sauce
How to make video
* The recipe is the information published in the June 3rd issue of Reiwa Newsletter.
Recipe using
"Shinto flatfish"
0品