Shizuoka's special recipe
Tuna mixed with sleet-healthy fish menu with plenty of vegetables and no oil
Tuna mixed with sleet-healthy fish menu with plenty of vegetables and no oil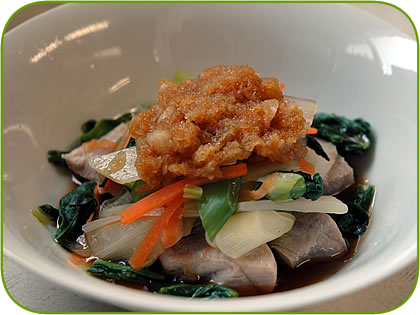 Material
Ingredients for 4 people
300g of tuna, 4 pieces of raw sardines, 150g of carrots, 2 deep-rooted green onions, 5 strains of Japanese mustard spinach, 1/2 of udo, combined seasoning (3 tablespoons of soy sauce, 100cc of squeezed orange juice, 1 cup of grated radish), salt
How to make
Cut the tuna into cubes of about 3 x 2 cm, and quickly pass it through the hot water to remove it.
Cut raw shiitake mushrooms into thin strips, carrots into thick slices, green onions into 5 mm thick diagonal slices, and aralia cordata into 4 cm long strips, and remove the lye. Boil quickly with the soup in the pot of 1.
Cut komatsuna into 3-4 cm pieces and boil them separately. Add to the soup of 2.
Grate the radish and add the squeezed juice to the broth of 2.
Drain the soup from 4 and pour it into a bowl and lightly mix it with the tuna from 1.
Put the seasoning in a pan, warm it, and pour it over 5.