Shizuoka's special recipe
Suruga Bay Paella-Suruga Bay seafood is plentiful!
Suruga Bay Paella-Suruga Bay seafood is plentiful!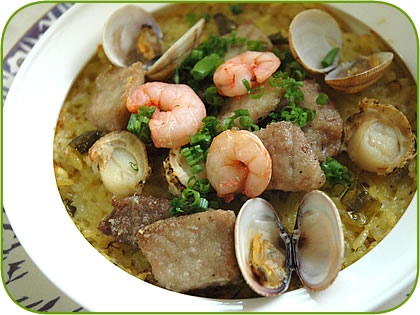 Material
(Materials for 4 people)
3 cups of rice, 200 g of tuna, 6 shrimp, 6 scallops, 400 g of asari, 200 g of onions, 2 peppers, 100 g of butter, 2 tablespoons of saffron, 3 cups of soup (boiled shrimp, asari, boiled scallops) + 1/3 Cup, a little salt and pepper, flour, fine onions
How to make
Polish the rice 30 minutes to 1 hour before cooking and put it in a colander.
Cut the tuna into bite-sized pieces, sprinkle with salt and pepper, and sprinkle with flour. After spitting sand, put it in a mortar and rub it about 30 times like polishing rice to thoroughly clean the surface. Wash the shrimp, remove the cotton and head with a bamboo skewer, and wash with salt water. Sprinkle salt on the scallops.
Finely chop the onions, cut the peppers in two lengthwise, remove the seeds, and cut into 1 cm colored paper.
Melt 30g of butter in a thick pan, brown the tuna and take it out.
Add 40 g of butter to the pan of 4, fry the onions without burning, add the peppers, the rest of the butter, and the rice, and fry for about 10 minutes until the rice is clear.
Boil the shrimp, lajonkairia lajonkai, and scallops in a colander, and add soup, a little salt, and saffron to the pot of 5 and cook.
Divide 6 into a baking dish, top with shrimp, lajonkairia lajon, and scallops, bake in the oven to the extent that it becomes brown, and decorate with fine onions.